New!! "Celebration Package"
Celebrate at SCI - $50
South Court Inn in Luray, VA offers our "Celebration Package"
for that special occasion and a memorable getaway.
Do you have something great to celebrate?
Whether it is an anniversary, birthday, proposal, honeymoon or what-have-you, South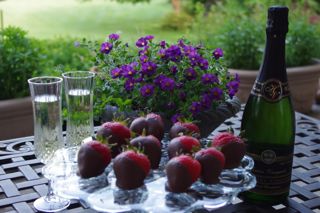 Court inn now offers a very nice Celebration Package to mark the occasion.
You get the following in this package:
10 Chocolate covered strawberries
A lovely bottle of chilled "Dom Virginion" sparkling Voignier (brut) from Horton Vinyards, Orange, VA
Complementary Champaigne Flutes that are yours to keep
Packages do not include the room rate.