No arrival and departure date specified yet.
South Court proudly presents the Sapphire Room, its "belle of the ball. The Sapphire Room is a study in understated elegance and grace…a special room for your Anniversary or Special Getaway!
Come, wrap yourselves in the warm elegance of contrasting blue and white toile, the graceful curving lines of the wicker headboard, loveseat and gossamer canopy, the broad expanse of linen and the flickering glow of the year-round electric fireplace provide the perfect ambience for your stay. The Sapphire Room beckons everyone seeking a getaway in Luray VA.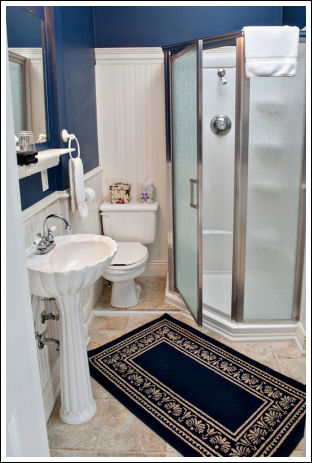 Sunday - Thursday:
$165 per night
Fri and Sat:
$180 per night
Weekend rates apply to all 3 days of federal holiday weekends
The Sapphire Room features:
A King-sized Canopy Bed
Electric Fireplace
Wicker Loveseat
40" cable-connected flatscreen HD TV with DVD player and access to our 200+ DVD library
CD player/clock radio
Luxury quality robes and towels to use during your visit
Private in-room bathroom
A Shower for One or Two...Very Good Friends!