Renovation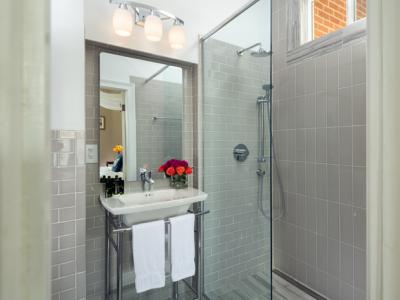 We have completed the room renovation project! All 4 rooms and associated bathrooms have been updated! The bathrooms have been totally redone, all now have heated floors, new, tiled, walk-in showers, new vanities, modern back-lit mirrors and virtually clog-free European style toilets. Turquoise and Gold rooms were done last year so joining them this year are Sapphire and Ruby completing the project. The reaction to the Turquoise and Gold renovations have been extremely positive so we're looking forward to hearing more good things about Sapphire and Ruby.
Along with the completion of the renovation is a change in the look and feel of the rooms themselves. The motif going forward is travel oriented. Each room now has a distinctive feel of a faraway place! As a way of emphasizing this change, the rooms are getting new names that align them with their individual motif; North, South, East and West.
Leading the pack is our flagship room, Turquoise which is now North. The North room is the only ground level room and is also the largest of our rooms. It has a king bed with a canopy overhead reminiscent of a royal bedchamber. The room is decorated with drawings and paintings from Adelheid's neck of the woods, Northern Germany, hence the "North" name.
Next in line is the other king bedroom, Sapphire that is now West. The West room has a beautiful view of the Blue Ridge Mountain and spectacular sunrises. It now is decorated with things we've picked up on our travels from Central America and sports that flare and also has a new canopy over the bed.
The Gold room is now South, with lots of trappings from Africa. The queen bed is adorned with a canopy of light mosquito netting that is essential equipment in Africa! There is a 'king chair', a two-piece traveler's chair and a real African drum from Accra, Ghana. South also boasts a great view of the Blue Ridge and amazing sunrises.
Formerly Ruby, the East room is cozy with a new, unique, purpose-built queen bed that was created from wooden carved filigree Indian room dividers. It also got a new sliding door closet whose doors are re-purposed from the originally shared bath between it and the West room. Two Chinese farmer's paintings and Moorish style nightstand lamps round out the highlights of this room.