Breakfast at South Court Inn
Our full breakfast is included in the price of all our rooms and packages!
We set your Coffee tray by your room by 8:00am. A multi-course breakfast be be served at 9:00.
Here are just a few examples of the delicious items you might be served from our ever-changing breakfast menus at South Court Inn in Luray, VA.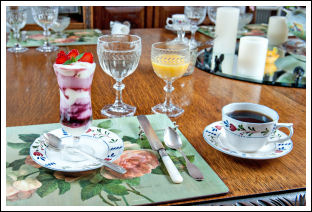 Choice of Chilled Fruit Juices and Mineral Water
A Selection of 15 Herbal and Black Teas and Chai
Fresh-Brewed South Court Blend Coffee or Decaf
One baked good such as a Blueberry muffin or Currant Cream Scone
Fruit Salad, using fruit in season and our lavender or rosemary infused honey
Hot Blueberry Pancakes with Maple Syrup and Savory Sage Sausage
South Court Eggs Benedict South Court Style on an English muffin
Individual Banana-Stuffed Croissant French Toast
with Maple Syrup And Savory Sage Sausage
South Court's Lemon Cloud Pancakes
With Savory Sage Sausage and locally-made Apple Syrup
Crisp Waffles with Shenandoah Valley Apple Syrup and Bacon
Sausage Quiche and Greens
Cherry Crépes with Sage sausage