The Bed and Breakfast
The Neo-Victorian decor of this classic Virginia home reflects the era in which it was built. Nevertheless all furnishings are there to be used by our guests; our goal is to make you feel like part of the family and to be right at home (though we'll pamper you like royalty). The Sunroom has a more contemporary feel and is where 24/7 coffee, tea and snacks are located along with a bunch of comfy chairs and relaxing plants.
Part of that pampering is that we offer true European style bedding to fit our idea of a more elegant and comfortable guest experience. Mike, who is a pilot for a major airline, has seen these at some of the nicer hotels, but they don't quite get it, unlike those properties that include a flat sheet (in the US anyway) the duvet 'bag' is washed after each guest stay and therefore no additional flat sheet is needed, we think you'll really like these (we do)!
In addition to all the attractions Luray and the surrounding area provide, we have two acres of land for you to explore, extensive gardens in the front and an expansive lawn in the rear with a number of tall hardwood trees, gardens, couple's swings/gliders and an awesome fire pit (with plenty of wood)! There is a rustic barn and carriage house as well where Mike is building his plane.
Your Hosts and Innkeepers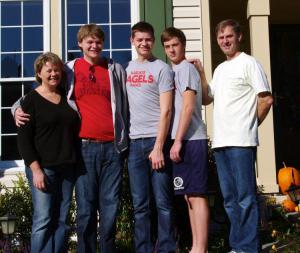 We are glad you found South Court Inn and hope you will come to stay with us at our bed and breakfast and home here in Luray, Virginia.
My husband Mike and I bought the Inn in July 2012. We are so happy to have found an Inn that is well received in the community, has great ratings, and is well established.
I have been cooking and feeding people since 1986 when I moved to America to feed my new husband. Eight years after that there were three little boys who were hungry as well. So I fed them. Besides them many friends and family from Germany and many other countries were cooked for by me. Last but not least we have welcomed seven exchange students from Germany, Sweden, Norway, Russia and the Netherlands into our home. These kids became part of our family and still keep close contact.
Besides all the cooking I earned a degree in Art History from George Mason University and have worked for eight years as a preschool teacher at HOPE preschool in Ashburn, VA.
It will be mostly me, Adelheid running the Inn, and doing the day to day chores. Not to underestimate Mike's role as the bookkeeper and lawn boy. He might just not be here when you come since he has another career.
Mike is plenty busy with his other job, a Boeing 787 captain. He has been flying since he was 14 and still loves it a lot. So much as a matter of fact that he is now building his/our own two seater airplane, a Bushby Mustang II from a kit. He is so happy that the outbuildings at the Inn give him plenty of room to pursue his hobby.
Now our three sons are grown and out of the house and on their own.
Enough about us, now we are ready to meet you and hear your story!