Breakfast at South Court Inn
We offer as many local products as possible on our breakfast table. The process of finding fresh ingredients is an evolving process since buying local has become more prevalent in the country and more sources are becoming available to us. Our ultimate goal is to offer a unique culinary experience. The Shenandoah region will stand out not only through its breathtaking landscape but also its own local flavor offered at the South Court Inn.
Our full breakfast is included in the price of all our rooms and packages!
We set your Coffee tray by your room by 8:00am. A multi-course breakfast be be served at 9:00.
Please note: we are unable to provide Vegan, "Atkins", "Paleo" or Kosher breakfasts.
Here are just a few examples of the delicious items you might be served from our ever-changing breakfast menus at South Court Inn
---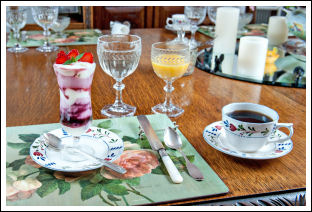 Choice of Chilled Fruit Juices and Mineral Water
A Selection of 15 Herbal and Black Teas and Chai
Fresh-Brewed South Court Blend Coffee or Decaf
One baked good such as a Blueberry muffin or Currant Cream Scone
Fruit Salad, using fruit in season and our lavender or rosemary infused honey
Hot Blueberry Pancakes with Maple Syrup and Savory Sage Sausage
South Court Eggs Benedict South Court Style on an English muffin
Individual Banana-Stuffed Croissant French Toast
with Maple Syrup And Savory Sage Sausage
South Court's Lemon Cloud Pancakes
with Savory Sage Sausage and locally-made Apple Syrup
Crisp Waffles with Shenandoah Valley Apple Syrup and Bacon
Sausage Quiche and Greens
Cherry Crépes with Sage sausage
As this is a Bed & Breakfast, the food for you is prepared in a kitchen that is not licensed as a restaurant and is not subject to regulations governing restaurants.
---