The South Court Cottage Redesign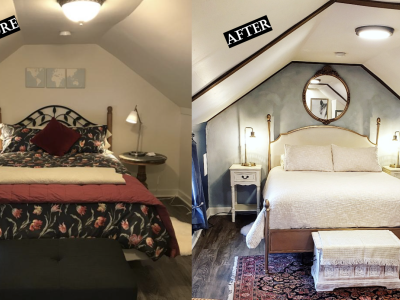 The South Court Cottage is ready for the world!
It is no secret that I love Victorian design and creating spaces that are perhaps a less frilly version of the times passed. We have been falling in love with the entire process of moving in to the South Court Inn and making it our own. The parlor, stairway hall, several of the rooms all have undergone some changes and...
With several renovations over the years, it had started to lose its character and really its identity. But rather than try to make the cottage fit into the mold of the main house, I decided to let the cottage tell me what it wanted to be. Yes, this sounds crazy. A cottage whisperer? No. I took this approach with all the projects I have taken on at South Court Inn, letting the spaces be what they were meant to be and not forcing a predetermined design on them. I simply helped them evolve. And with the Cottage, I was determined to help the space be exactly what it wanted to be all along.
I should add a little more background to explain why this undertaking was a little difficult. This Inn is the first home I have ever owned. I am an Army Veteran and my whole adulthood, starting with when I left home for college and then transitioned straight in to military service after graduation, has been on the move. I have decorated several homes I have lived in over the years, but never reached so far into changing light fixtures, painting, adding carpentry, truly changing a space. Joe was away when we first moved in and so he could not come save me from all my big ideas or do the dirty work for me. Since the cottage felt so lost from the rest of the house, I decided to learn these skills on my own in the cottage and hoped together we could both grow. And we absolutely did. Granted I did have to ask for a little help from a local handyman and my brother, but I just kept working at it. At times I felt like Don Quixote and the cottage was my windmill. I would tell myself "I can have this done in just two more days," and a week later I was still changing light fixtures or adding new furniture because the cottage was not quite where it wanted to be. I also was continually getting distracted by other projects in the main house (before and after photos of the Inn coming soon).
So a month and a half later...the South Court Cottage has fully formed in to the quirky and cozy rebel it was meant to be. Inspired by the precocious daughters of the home's original owner, the cottage is a place to feel encouraged, to be yourself and to relax.
Best,
Shannon
For additional photos-check out our South Court Inn Rooms and Rates "South Court Cottage"